Instructors
The instructors Aegela has on staff are, of course, very skilled belly dancers. But these women all exceed that competency in one very important way: they are effective teachers. They lead with contagious enthusiasm, a lot of patience, and more than a pinch of the entertaining presence that has become perhaps the most endearing "Aegela-ism" of all to the hundreds of women who have been Aegela students.
We know you are spending your hard-earned spare time with us, and our instructors all certainly believe you should enjoy it!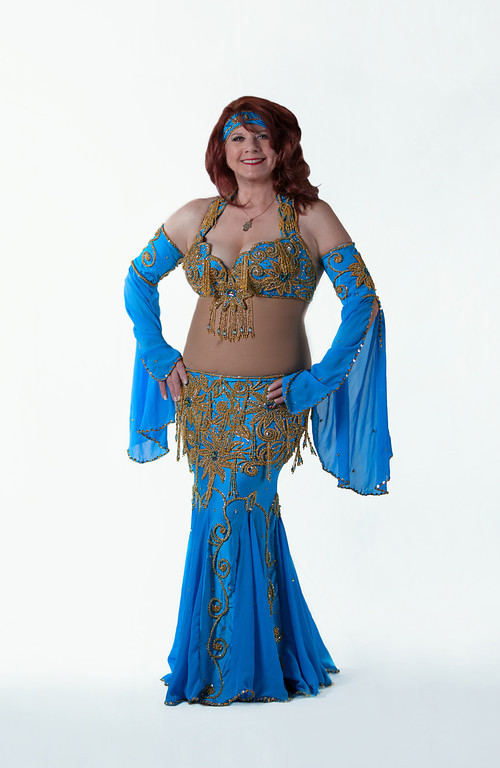 Aegela
Owner & Instructor
Since 1978, Aegela's love of Middle Eastern dance has taken her throughout the US and to the heart of the art—Egypt. She has engaged in several performing tours of Cairo and Alexandria, Egypt. It was on her first tour that Aegela was awarded the coveted Lifetime Performer's license by the Egyptian Ministry of Culture, an honor held by only 11 foreigners. While working in Egypt, Aegela enjoyed the privilege of studying with famed dancer/choreographer Mahmoud Reda, of the Reda Troupe, and with Madame Busi, principal dancer with the National Folkloric Company
During her teaching career, Aegela has conducted classes for the deaf and hearing impaired, and devised a format for use in occupational therapy rehabilitation programs assisting women in regaining range of motion. Recently, she developed a dance program for women recovering from strokes. These experiences have enhanced her ability to articulate movement and discern what subtle changes are required for the desired effect.
Aegela frequently lectures in major universities on the topics of Middle Eastern art and music, as well as women's roles in that society. Speaking engagements have included Emory University School of Near Eastern Studies, Georgia State University, and Mercer University. A television special, "Dance Atlanta," highlighted Aegela as an artist of Middle Eastern dance. She was the featured performer in numerous Middle Eastern, Greek, and Turkish nightclubs, as well as studio director and coach to Atlanta's premier dancers.
Conducting multi-level classes in her new hometown of Toledo, Ohio, and as a national seminar instructor, Aegela encourages participants to "think outside the box" using traditional movements in unusual combinations, or "Aegela-isms." In her classroom, women celebrate their unique images and personalities discovered through the joy of dance.
Aegela is the recipient of the 2004 Stella Award for Lifetime Achievement in Middle Eastern Dance. In 2006, she and co-author, Chelydra (VA), were selected to present their Ghawazee Suite in the Choreographers' Showcase sponsored by Old Dominion University. She was Zaghareet Magazine's nominee for the 2006 Lifetime Achievement Award and is a frequent guest author for that magazine. Aegela is also Level 1 certified in the Suhaila Salimpour technique.
She has been written about in books and referenced in academic theses. Now you can enjoy Aegela—a Middle Eastern dance experience!
Jen Bak
Instructor, Tribal Style Belly Dance
Certified in the American Tribal Style ® of Belly Dance by founder, Carolena Nericcio.  Jen is a member of the Aegela Dance Company.
Cheryl Johnson
Rehearsal Director, Aegela Dance Company
Cheryl teaches multi-level classes at the Aegela Centers as well as co-ordinating schedules and logistics for performances by the Aegela Dance Company.